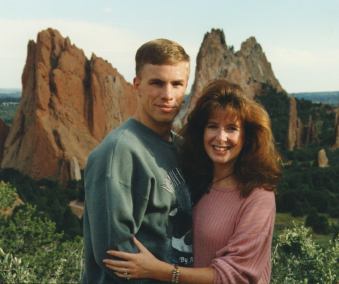 We had trained up to 45 km, but we had no concept of what it would be like to walk 60 miles on no sleep. We were in for a big surprise. The worst was what the pavement did to our feet. At some points we did not know if we could withstand the pain anymore but then a wave of numbness would come over our feet and we would keep walking. Even to sit down and take the weight off our feet for five minutes helped. The second biggest factor for us was having no sleep. I got so exhausted I wanted to cry and laugh at the same time. I have not felt like that since I was a child. Mick's old ankle injury from 10 years ago began to swell up so much he could not rotate it. Otherwise, we were amazed at how well everything else felt. At the end we both agreed it was the hardest physical challenge we have done so far.
We have been asked by all those who knew we did the Dodentocht, "Why?" There were a number of reasons. We both like physical challenges. We have climbed fourteeners in Colorado and we thought this would be another great challenge. We also enjoy doing different activities in Europe. We thought doing this march in Belgium would be a nice change from the usual touring we have done. The biggest reason is put well by a quote Mick read at the 69 km mark: "Only those who will risk going too far can possibly find out how far one can go." We now know we can go 60 miles in 22 hours. The question now is how much further can we go.
Though she very much enjoyed hikig 100 km in one day, Monica currently finds joy in writing. You can read her insightful articles at the FemmeTales site.
"The heights by great men reached and kept, were not attained by sudden flight, but they, while their companions slept, were toiling upward in the night." Henry Wadsworth Longfellow
---
Results
Mick Wilcox

| | | | |
| --- | --- | --- | --- |
| | Control Point | Distance (km) | Time |
| | START | 0 | 21:00:00 |
| | BORNEM TENT | 13.94 | 23:30:00 |
| | BREENDONK MOORTGAT | 33.54 | 03:44:00 |
| | STEENHUFFEL - PALM | 47.37 | 07:09:00 |
| | BUGGENHOUT - SPORTHAL | 68.47 | 11:24:00 |
| | LIPPELO - LAGERE SCHOOL | 80.44 | 14:04:00 |
| | ST. AMANDS - SPORTHAL | 90.70 | 16:30:00 |
| | BRANST - ZATES | 94.70 | 17:41:00 |
| | BORNEM TENT | 100.13 | 18:56:00 |
Monica Wilcox

| | | | |
| --- | --- | --- | --- |
| | Control Point | Distance (km) | Time |
| | START | 0 | 21:00:00 |
| | BORNEM TENT | 13.94 | 23:32:00 |
| | BREENDONK MOORTGAT | 33.54 | 03:44:00 |
| | STEENHUFFEL - PALM | 47.37 | 07:09:00 |
| | BUGGENHOUT - SPORTHAL | 68.47 | 11:24:00 |
| | LIPPELO - LAGERE SCHOOL | 80.44 | 14:04:00 |
| | ST. AMANDS - SPORTHAL | 90.70 | 16:30:00 |
| | BRANST - ZATES | 94.70 | 17:41:00 |
| | BORNEM TENT | 100.13 | 18:55:00 |
---

Created by Michael F. Kamprath, michael@kamprath.net